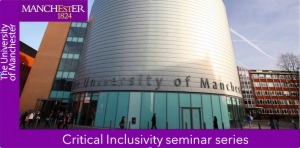 Critical Inclusivity Seminar Series – Invisible dis/ability
Our next critical inclusivity seminar features Hannah Strickland (MIE, UoM) and will focus on ableism in education. This seminar will be held on Thursday 17th June from 4-5.
This seminar will bring forward discussions about ableism in education focusing on teachers with disabilities. Discussions will centre around the importance of teachers with different dis/abilities as educators of diverse young people, as well as the current contexts for schools and teachers. Hannah will share some insights from her research into the experiences of teachers with invisible physical disabilities and what we can learn from these research findings to start to shape more inclusive educational environments for everyone.
This is an event for those involved in education; University of Manchester student teachers, alumni, school partners including teachers, mentors and professional mentors, MIE colleagues and other interested colleagues. If interested, please register here
See a previous post for Hannah's thoughts on this issue.