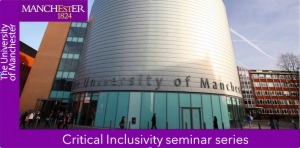 Education for social justice
Read all about our Inclusion and Inspiration annual conference on the University of Manchester Teach, Apply, Explore (TEA) blog.
You can find out more about our 2022 Inclusion and Inspiration conference 'Education for Social Justice', including summaries of keynotes and sessions, here
We are also pleased to share that we will have a private screening and discussion on Wednesday 15th June, 4:00 – 5:15, of this year's keynote 'What is your argument?' by Jeffrey Boakye for our students, alumni, partnership schools and colleagues. Apply on Eventbrite using your student, work or school e-mail address.