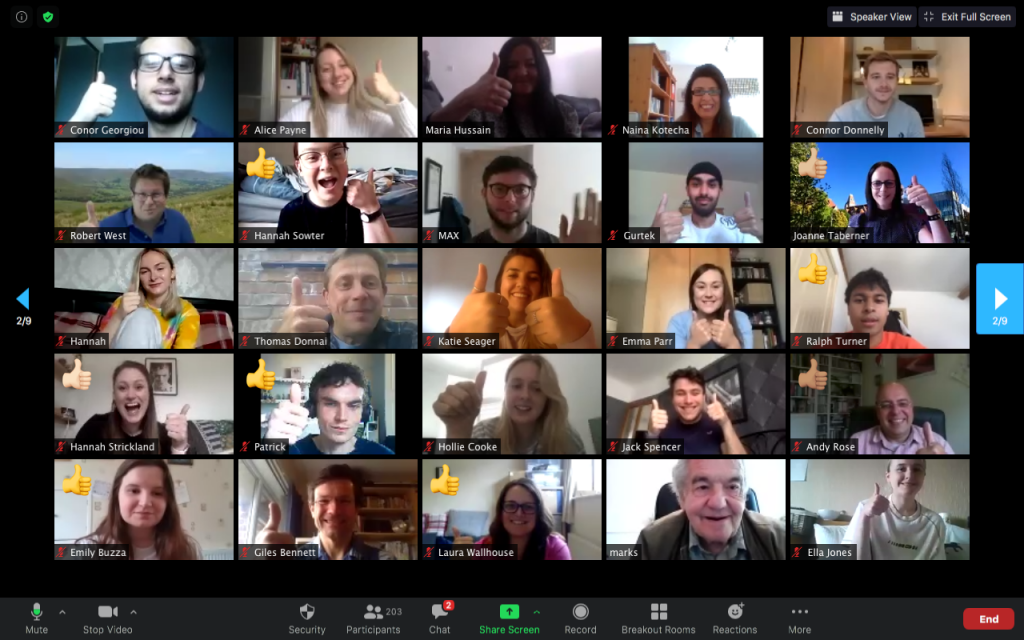 PGCE 2019-20 Celebrations!
Trainees' completion of the PGCE course this year demanded a celebration, and the circumstances required that this take place on Zoom. The PGCE 2019-20 Cohort and staff of over 200 assembled to celebrate on Friday 12th June, with a magnificent send off including speeches, reflections, videos, songs, poems and music. A taste of this is available in the two videos below which formed a part of the programme.
PGCE reflections video: https://www.youtube.com/watch?v=s6nmECUlorQ&feature=youtu.be
Messages to the cohort: https://www.youtube.com/watch?v=DHY7WFDYjXM&feature=youtu.be
As a PGCE Secondary team at the university, we are so proud of the way trainees have managed this year, supporting each other and working with schools and colleges in whatever ways they could. And we are  extremely grateful to colleagues in schools and colleges through the year, including Placement 3, Core and School Direct, who have worked with trainees to support their development and training from day to day, week to week and month to month. This is an amazing time to be entering the teaching profession and we are so glad to be working in such a strong Partnership and with such talented and committed people.
Some of the 220 Core and School Direct trainees completing their PGCE, with staff, at the end of the programme:
Congratulations and best wishes to everyone for a successful NQT year.
Andy Howes, on behalf of the Secondary PGCE team.